Next Generation Pastor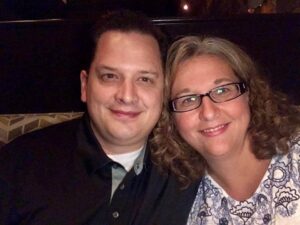 Pastor James was called to lead Laguardo Baptist in April 2018. Prior to arriving at LBC, Pastor James has pastored in Southwest Virginia and in both Middle and West Tennessee. He was saved at the age of 12 and he answered the call to preach in 2004. In addition to serving as pastor to the members of LBC, he is also actively involved in the associational work and currently serving Tennessee Baptist as a director of the Tennessee Baptist Mission Board.
Pastor James holds both a Masters (M.Min) and Doctorate (D.Min) degree in Ministry from Andersonville Theological Seminary and is currently enrolled in Luther Rice Seminary where he is seeking to further his education with a post-secondary degree in Christian Studies (M.A.C.S.)
Pastor James has been married to his beautiful wife, Sonya, since 1989 who serves as an accountant for the state of Tennessee. James and Sonya have one son who currently resides in the Smyrna Tennessee with his wife . Pastor James and Ms. Sonya were also blessed with the addition of their first grandchild in December of 2015.
Psalms 118:8,- "It is better to trust in the Lord than to put confidence in men"
1 Thessalonians 2:4 – "But as we have been approved by God to be entrusted with the gospel, even so we speak, not as pleasing men, but God who tests our hearts"
Pastor Bradley (and wife Gracie) currently resides in Lebanon, TN and was called to become our student pastor at Laguardo Baptist in April 2019. Since that time, he has been asked to also lead and launch our young adults ministry "The Gathering Grounds".
Prior to arriving at LBC, Bradley graduated from Greenville University with a major in sports management and a minor in ministry. While at Greenville, he served as the FCA chaplain and the class chaplain. He interned at Temple Baptist Church in White House, TN where he lead the college ministry and he currently attends Liberty University where he is pursuing his Masters of Arts in Theological Studies.
Bradley serves in a bi-vocational role where he also is able to do ministry with The Gideon's International in Nashville, TN, where he serves as a membership service associate. Within this role, he is giving the ability to not only assist members in their mission, but to also share the Word of God to those who are seeking spiritual advice and answers found within the scriptures. Our church is blessed by the addition of both Bradley and Gracie.
"I appeal to you therefore, brothers, by the mercies of God, to present your bodies as a living sacrifice, holy and acceptable to God, which is your spiritual worship. 2 Do not be conformed to this world but be transformed by the renewal of your mind, that by testing you may discern what is the will of God, what is good and acceptable and perfect." – Romans 12:1-2
We are blessed to have Bro. Rodney Stafford as a volunteer leading our corporate worship and praise team. He has been a tremendous blessing to our church along with his wife Jennifer.